Reproduction morioke
(Moriok Replica)
Reproduction morioke
(Moriok Replica)
Masticore à queue en fusion
Mox d'opale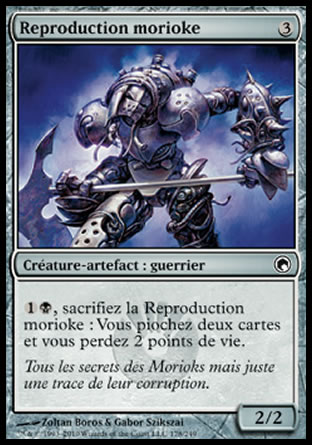 Indice de popularité :
Nom :

Reproduction morioke
Coût :



CCM : 3
Type / sous-type :
Créature-artefact : guerrier
Faction: Faction mirrane
Texte :


, sacrifiez la Reproduction morioke : Vous piochez deux cartes et vous perdez 2 points de vie.
Tous les secrets des Morioks, mais juste une trace de leur corruption.
Force / Endurance: 2/2
Illustrateur :

Zoltan Boros & Gabor Szikszai
Numéro de collection : SOM 178/249
Date de sortie : 01/10/2010
Autorisations en tournois :
VTG
LGC
MDN
PIO
STD
CMD
DCM
PAU
Couleur






Moriok Replica
Artifact Creature — Warrior


, Sacrifice Moriok Replica: You draw two cards and you lose 2 life.

All the secrets of the Moriok with only a trace of their corruption.
Cycle :
Cette carte fait partie du cycle des cinq reproductions des
Cicatrices de Mirrodin
(une par couleur, chacune portant le nom du peuple humain lié à cette couleur). Ce sont des créatures-artefacts pour

capable de se sacrifier pour un coût de mana coloré afin de produire un effet caractéristique de cette couleur. En voici la liste :

Reproduction aurioke

,

Reproduction neuroke

,

Reproduction morioke

,

Reproduction vulshoke

et

Reproduction sylvoke

.

Ce cycle fait écho à un autre cycle de reproductions, datant de l'extension

Mirrodin

et fonctionnant sur le même principe :

Reproduction de soldat

,

Reproduction de sorcier

,

Reproduction de nim

,

Reproduction de gobelin

et

Reproduction d'elfe

.